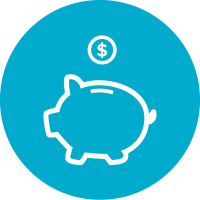 Financial Wellness involves the process of learning how to successfully manage financial expenses. Money plays a critical role in our lives, and it can impact your health as well as academic performance.  
You can foster your financial wellness by:
Starting with small changes that will add up over time (i.e. make your own coffee rather than buying it).
Utilizing resources to expand your budget like CalFresh and other student discounts.
Understanding your student loans.
Starting a savings account – add a small monthly automatic payment, if possible.
Identifying and addressing any financial problems before they start.
Planning ahead and setting budget goals.
Making a list or reviewing your bank account of all purchases in one week.
Writing a list before you go shopping.
Asking yourself "do I really need this?" before an unplanned purchase.
Resources