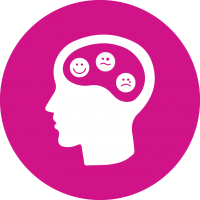 Emotional wellness involves developing an awareness of your feelings and your response to everyday interactions. This awareness allows you to better understand why you are feeling that way and can actively respond to your feelings.
You can foster your emotional wellness by:
Taking time to yourself to quiet your mind and reflect.
Smiling and laughing! Sometimes humor is the best medicine to decrease stress and put life's challenges in perspective.
Seeking or accepting help and support from others when needed.
Sharing your thoughts and feelings with someone you trust. Remember to listen to others' emotions too.
Practicing gratitude.
Accepting mistakes and learning from them for next time.  
Taking care of your body. Eating, being active, and sleeping – your mental & physical well-being are interconnected.
Being kind to yourself.  
Resources