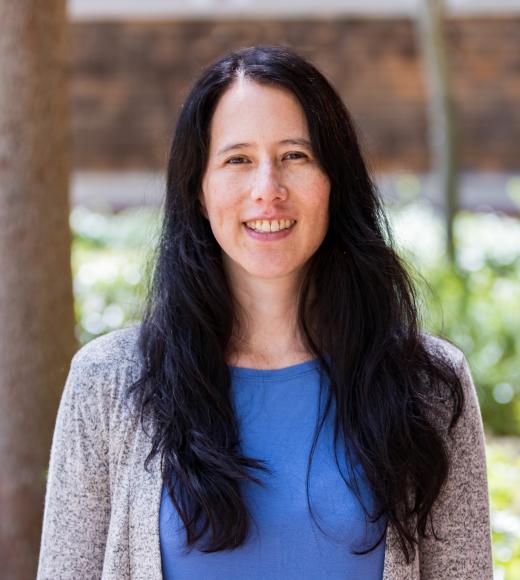 Bio
Partner Units
Women's Resources and Research Center (WRRC)
Lesbian, Gay, Bisexual, Transgender, Queer, Intersex, Asexual Resource Center (LGBTQIA RC)
Locations / Days
Women's Resources and Research Center (WRRC), North Hall First Floor: Tuesday, Wednesday
Lesbian, Gay, Bisexual, Transgender, Queer, Intersex, Asexual Resource Center (LGBTQIA RC): Monday, Friday
Education
LMFT, MA in Counseling Psychology: Expressive Arts Therapy Specialization
How I Work With Students
I use a collaborative and expressive arts-based approach with students, assisting them to identify their own inner resources and inherent strengths with a touch of creativity. A holistic lens is an integral part of how I help students, considering each person's unique sociocultural makeup, including their race, ethnicity, sexual orientation, gender identity, religious beliefs, age, and physical ability, among others. Together, we discover how these factors affect people's behavior, core beliefs, identity, social factors, and wellbeing. Facilitating healing and self-empowerment are key elements of how I support students. I am down to earth, compassionate, caring, and find great joy as a co-creator in my clients' personal growth.
About Me
Maia has been in the helping professions for more than 20 years. She received her undergraduate degree from The Evergreen State College in 1994 and her MA in Counseling Psychology with an emphasis in Expressive Arts Therapy from the California Institute of Integral Studies in 2004. She has specialized in working with young adults and college students from a variety of different backgrounds, including clients from the LGBTQIA community, immigrants and ethnically diverse clients, and clients with disabilities, among others. Maia's professional experience has focused on providing direct care for underserved, marginalized communities in the nonprofit and social services sectors. Prior to becoming a psychotherapist, she worked in the capacity of a community advocate, case manager, outreach worker, and peer counselor with clients of many different ages and cultural backgrounds. Maia loves working with college students and has a passion for using the arts to support people to come to their own self-actualization.
Professional Interests
Multicultural Counseling, LGBTQIA Counseling, Expressive Arts Therapy, Same-Sex/Straight/Polyamorous Relationships, Chronic Illness & Disabilities, Identity Development, Women's Health & Wellness, Concerns of Underrepresented & Underserved Communities (sexual orientation, gender identity, racial/ethnic diversity, economically disadvantaged, immigrants & children of immigrants), Life Transitions, Self-Esteem, Body Image, Spiritual/Religious Concerns
Areas of Emphasis
Expressive Arts Therapy, Multicultural Counseling, LGBTQ Counseling, Gender Care Team
Contact Information
These communication methods are intended for staff, faculty, students, and community communications. To make an initial appointment, please send an email to Maia at mhuang@shcs.ucdavis.edu. Students who have already established care with Maia are advised to use Health-e-Messaging for all communications.