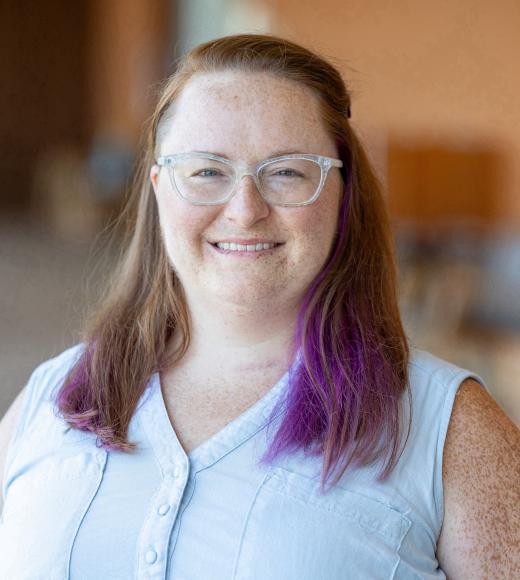 Bio
Partner Units
LGBTQIA+ Resource Center
Contact Information
These communication methods are intended for staff, faculty, students, and community communications. To make an initial appointment, please send an email to Mary at mschellentrager@ucdavis.edu. Students who have already established care with Mary are advised to use Health-e-Messaging for all communications.
About Me
Education
M.A. in Counseling Psychology, California Institute of Integral Studies, San Francisco, CA
B.A. in Anthropology, American University, Washington, DC
About Mary
I come to UC Davis from various positions within community-based mental health organizations supporting multiply marginalized communities in Yolo and Sacramento counties. I have also worked in intensive outpatient care, in private practice, and at the Pacific Center for Human Growth supporting the LGBTQIA+ community in the East Bay. In my free time, I enjoy art journaling, science fiction/fantasy audiobooks, live music, and spending time in nature.
How I work with Students:
I support students from a holistic perspective, encompassing the realms of cultural and developmental experiences, current challenges, and consideration of their unique positionality within the systems of our society. I bring a warm, empathetic, and truthful presence as I walk alongside clients in their healing journeys.
Professional Interests
I draw upon multiple therapeutic frameworks to provide person-centered support. I incorporate a psychodynamic lens in a strengths-based and trauma-informed context. I utilize narrative therapy to help clients break free from old beliefs, stories, or patterns that are no longer serving them. I employ Dialectical Behavioral Therapy to support students in learning concrete tools for navigating triggers and life stressors. I also offer expressive arts modalities (visual arts, music, drama, writing, and movement) to facilitate creative pathways to deeper understanding and personal growth.
Identities that Represent Me
LGBTQIA+
Tags